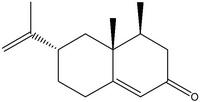 References
---
DMA Code
801268
CAS Number
4674-50-4
FEMA Number
3166
EINECS Number
225-124-4
Characteristics
---
The first commercial scale example of EU natural nootkatone being produced by biotransformation, this product has a cleaner profile than product derived from other sources.  Besides application in grapefruit flavours, it has also been shown to add depth and authenticity to a range of unexpected flavours including raspberry, mushroom and mint.
Product Information
---
Category Aroma Chemicals
Regional Availability Worldwide
Harvest Period n/a
Natural Status EU Natural
Organoleptic Descriptors
Common Applications
Appearance Yellow to yellow-green
Kosher yes
Halal yes
Chemical Properties
---
Assay min. 50%
Optical Rotation +120.0 to +165.0
Refractive Index @20℃ 1.5130 - 1.5280
Specific Gravity @20℃ 0.975 to 1.015
Flash Point ℃ >100°C
Shelf Life (months) 12
Storage Recommendations Sealed containers in a cool dark place. Check quality before use.