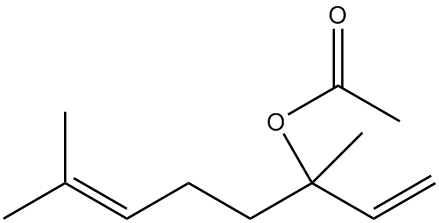 References
---
DMA Code
800946
CAS Number
115-95-7
FEMA Number
2636
EINECS Number
204-116-4
Characteristics
---
Linalyl acetate coeur is a premium quality linalyl acetate monitored organoleptically to ensure consistent odour character.  It finds its greatest use as a modifier in perfumes, where it contributes a fresh, floral odour, with a slightly fruit-like topnote.
Product Information
---
Category Aroma Chemicals
Regional Availability P.R. China
Harvest Period n/a
Natural Status Synthetic
Organoleptic Descriptors floral, fresh, herbal, woody, lavender-like, bergamot
Common Applications bergamot, lavender, sage, magnolia
Appearance Colourless liquid
Kosher no
Halal no
Chemical Properties
---
Assay min. 97%
Optical Rotation n/a
Refractive Index @20℃ 1.4480 - 1.4520
Specific Gravity @20℃ n/a
Flash Point ℃ 90°C
Shelf Life (months) 12
Storage Recommendations Sealed containers in a cool dark place. Check quality before use.