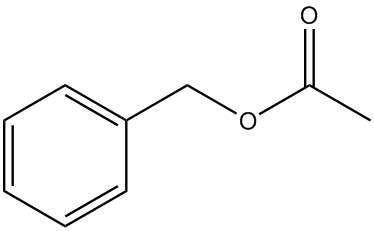 References
---
DMA Code
800799
CAS Number
140-11-4
FEMA Number
2135
EINECS Number
205-399-7
Characteristics
---
An ester with the molecular formula C9H10O2, it is naturally found in many flowers and has a  sweet, floral odour.
Product Information
---
Category Aroma Chemicals
Regional Availability Worldwide
Harvest Period n/a
Natural Status EU Natural
Organoleptic Descriptors sweet, floral, fruity, jasmin, fresh
Common Applications apple, cherry, blueberry, floral, gardenia, hibiscus, passion fruit
Appearance Colourless liquid
Kosher yes
Halal yes
Chemical Properties
---
Assay min. 99%
Optical Rotation n/a
Refractive Index @20℃ 1.5010 - 1.5040
Specific Gravity @20℃ 1.052 - 1.062
Flash Point ℃ 95°C
Shelf Life (months) 12
Storage Recommendations Sealed containers in a cool dark place. Check quality before use.