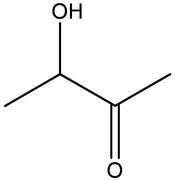 References
---
DMA Code
800854
CAS Number
513-86-0
FEMA Number
2008
EINECS Number
208-174-1
Characteristics
---
A ketone with the molecular formula C4H8O2, it is naturally found in many dairy products and has an odour reminiscent of butter.
Product Information
---
Category Aroma Chemicals
Regional Availability Worldwide
Harvest Period n/a
Natural Status EU Natural
Organoleptic Descriptors sweet, Fatty, buttery, creamy, dairy, milky
Common Applications apple, banana, butter, caramel, cheese, coconut, milk, strawberry
Appearance Colourless, crystalline
Kosher yes
Halal yes
Chemical Properties
---
Assay min. 96%
Optical Rotation n/a
Refractive Index @20℃ n/a
Specific Gravity @20℃ n/a
Flash Point ℃ 45°C
Shelf Life (months) 12
Storage Recommendations Crystalline acetoin is a dimer which interconverts with a liquid monomer. To keep in the solid form, store below 15°C.